The Annual Derek Lloyd 3-a-side Domino KO took place on 11th January 2014. The Winners were ''The Nags'' who beat ''The Double Sixers'' in the Final. The Consolation winners were ''Little Dickie and his mates'' who beat ''Old gold and black'' in the Final.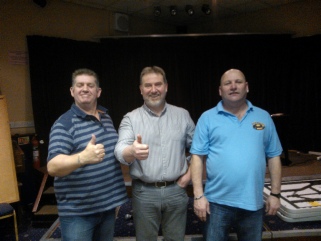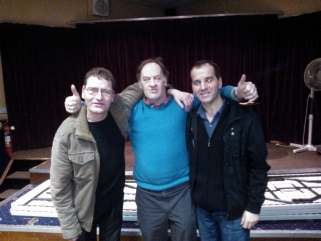 The Club's Quoits Board is now up and running after an interval of nearly two years. Various 'styles' of quoit rings are available for individual taste.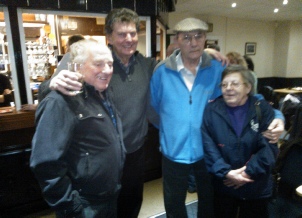 The "Elcock Reisen" Sponsored Broseley Domino League's last league matches of the 2013/14 season were played on Friday 21st february. The club's 'Old Boys' Team needed to win 3 games to win the league. This they duly accomplished with a 5-2 away win at the Cricket Club. Pictured in a celebratory mood back in the club are some of the 'Old Boy's' Team…Barry Baker, Alan Roe (Capt), Cliff Price and Chris Jones.
St George's Domino Pairs Knockout
The format this year is a pairs knockout and takes place on Saturday, 26th April from 5.00pm. Entry Fees of £4.00 per pair must be in by Friday 25th April.
Ron Chard Domino Pairs Knockout
14 pairs entered the knockout on Good Friday 18th April. 'John & Ron' (Ron Ball & John Goodall) beat 'Drab' (Brian Hickman & Dab Glaze) in the Final and 'Roey's Rascals' (Alan Roe & Earn Minton} beat 'The Hopefulls' (Baz Baker & Cliff Price) in the Consolation Final.The evening raised £120.00 for the Midlands Air Ambulance. Many thanks to Denise Sayer for selling the raffle.