Club Xmas Domino and Darts KOs
The Winner of this year's Domino Individual KO played on Thursday December 5th was Mike Burton who defeated Sue Hamer in the Final. The Consolation KO Winner was Susie Barnham who overcame John Pearce in the Final. The Domino Pairs KO Final on Thursday December 12th saw Alan Roe and Ernie Minton defeat Dave Platt and Mal Richards on the 12th December. The Consolation KO Final saw Andy Jones and Gaz Welch overcome Mike Starkey and Chris Powell. The Darts Individual Xmas KO on Thursday 19th December saw Sam Owen overcome Dave Gittoes in the Final and Kevin Carter overcame Peter Vierrath in the Consolation KO Final.
The Annual Derek Lloyd 3-a-side Domino KO took place on 11th January 2014. The Winners were ''The Nags'' who beat ''The Double Sixers'' in the Final. The Consolation winners were ''Little Dickie and his mates'' who beat ''Old gold and black'' in the Final.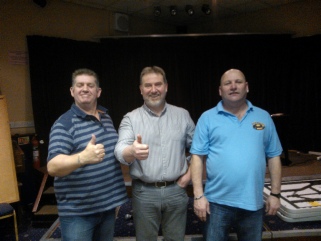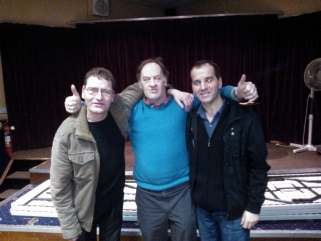 The Club's Quoits Board is now up and running after an interval of nearly two years. Various 'styles' of quoit rings are available for individual taste.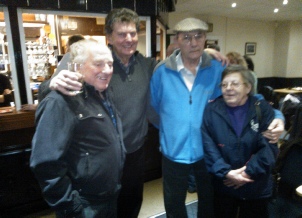 The "Elcock Reisen" Sponsored Broseley Domino League's last league matches of the 2013/14 season were played on Friday 21st february. The club's 'Old Boys' Team needed to win 3 games to win the league. This they duly accomplished with a 5-2 away win at the Cricket Club. Pictured in a celebratory mood back in the club are some of the 'Old Boy's' Team…Barry Baker, Alan Roe (Capt), Cliff Price and Chris Jones.